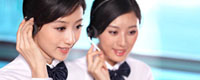 Tel: +86-750-3885628
Fax: +86-750-3885629
Mobile: +86-13924682762
E-mail: info@pvohbag.hk
Add: Nanlu Industrial Zone, Duruan Town, Jiangmen City, Guangdong, China


Product name : Water soluble laundry bag for infection control

Product No. : 20151221113935
Details:
1. Standard sizes:
660x840mmx25micron(26"x33"x1mil)
710x990mmx25micron(28"x39"x1mil)
914x990mmx25micron(36"x39"x1mil)
1520x1520mmx40micron(60"x60"x1.6mil)
2. Dissolving temperature:
Type C: >15℃
Type M: >45℃
Type H: >65℃
Type E: >90℃
Remark: *The above temperatures are the best recommended dissolving temperatures;
* Each bag is equipped with a cold water soluble colored tie.
*Color and specification are available upon the request of the clients.
3. Colour: natural/red/green/blue/orange/yellow/pink/milky,etc are available.
4. Packaging: 25PCS/PACK, 200PCS/CTN; in folding or rolling
Advantages of water soluble laundry bag for health care
* The infected contents of the laundry bag does not need to be handled by staff until the
wash and drying cycles are completed.
* The bags will dissolve completely in water during the washing process. They leave no
potentially infected waste and do not pollute the water.
* The bags ensure the safe transport of contaminated material or instruments for staff in
hospitals. Once the linens/instruments are sealed in the bags, the risk of contamination
and infection is minimised.
* Water soluble bags are anti-static, non-toxic and fully biodegradable. Tests have verified
that the bags are impermeable to bacteria and virus.
* Water soluble laundry bags have excellent gas barrier properties.