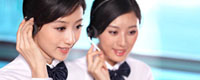 Tel: +86-750-3885628
Fax: +86-750-3885629
Mobile: +86-13924682762
E-mail: info@pvohbag.hk
Add: Nanlu Industrial Zone, Duruan Town, Jiangmen City, Guangdong, China


Product name : Biodegradable dog waste bag

Product No. : 20151221114855
Details:
Biodegradable & flushable bag is specically formulated to have appropriate
water resistance and disintergration. It can be used to collect the dog pooh
with certain water content without dissolution or break. Once the collection
bag contacts plenty of water when discarded into a toilet, it will soften or
disintegrate rapidly, and then be flushed into the sewer successfully and
biodegraded completely into carbon dioxide and water in the septic tank. It
will not do any harm to human being and environment.